our Support in THE COMMUNITY
Festival Time
The Livermush Festival in Marion was a huge hit over the weekend. Great food, music and crafts for everyone. Thanks to everyone who supported this great event.
Thanks to everyone who helped support the Hospice Golf Tournament at the Grassy Creek Golf Club. We had a great turnout to raise funds for a wonderful cause.
The Torch Run for Special Olympics NC was held in Downtown Spruce Pine. This event raises funds and awareness for Special Olympic athletes. We are proud sponsors and want to Thank everyone who supported this great event.
We are proud supporters of the Mitchell High School Mountaineers. They finished 2016 as 1A State Semi-Finalists. Congratulations on another amazing year.
The MHS Performing Arts Class had their Car Wash here. They raised funds for 2017 and were fed pizza as well..Thanks to everyone who supported them today. They did a great job cleaning the cars :)
Tee Time. Thanks to all of the supporters of the 5th Annual Mitchell High School Boosters Club Golf Balls with a Cause Tournament. This event helped raise funds for the MHS Atheletes this year. Everyone had a Great time.
Over 100 runners braved the cold and came out to support the Run for Holland 5K/10K Race. This event raises awareness for those with disabilities. Special thanks to All those that supported this great event.
Many Thanks to everyone who came out to support the Brandon Peterson Memorial Playground. The Cruise In raised funds with all proceeds going to that Great cause.We were Honored to be a part of this worthwhile event.
Honored. We received Awards from Toys for Tots for our support of this great program. Thanks to your help we were able to give bikes, toys, and more to help over 350 kids in our area. Let's all Give Back this year.
We at Spruce Pine are proud to serve our local community in a wide variety of ways. Some organizations we include are US Marine Cop Yearly Toys For Tots event, the FC Fuego Youth Soccer Club, and we are proud participants in the Spruce Pine Relay For Life event. If you would like to partner with us, please give us a call.

Christmas with a Cop. Shop with a Cop was a Spectacular Success! Thanks to All the Volunteers, Cops, Western Sizzlin Staff and Wal-Mart Staff for making this such a Huge Success! The kids shopped with a Cop and then Enjoyed a Delicious Meal at Western Sizzlin.
"Good Times. Our Company Christmas Party was a huge success. Lots of great people and good eating. Thanks to our wonderful owners for hosting this awesome event."
We had a Big turnout for our Veterans Breakfast. Great food and a good time was had by all. Let's all thank our Veterans every day.
We were recently awarded the 2016 Mitchell County Chamber of Commerce Excellence in Community Support Award. It was a Great honor to win this and we Thank everyone who voted for us. Let's all give back to our great Community."
Walk A Mile in Her Shoes. We were happy to be a part of many participating in the walk across Upper Street in Spruce Pine hosted by Mitchell County SafePlace.
Lots of Hard Work, Fun, and Success! The Lady Mitchell Mountaineers Volleyball team had a Car Wash Fundraiser here at the dealership.
The Tiny House has a New Home! We have partnered with Buck Stove and we have one of their amazing Tiny Homes here at the dealership!
We are proud supporters of The Mitchell High School Mountaineers. They finished an Amazing 2015 Football season as 1AA Regional and State runner ups. Congrats on a great year.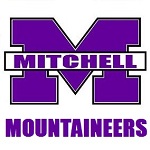 Spruce Pine Chevrolet - GMC proudly sponsors The Baptist Men and Hospice Golf Tournaments held yearly at Grassy Creek Golf and Country Club
We celebrated the 4th Of July with our local Vets. They were treated to a BBQ dinner and honored in a parade to follow. Thank you for serving our country. We are very proud of you all.